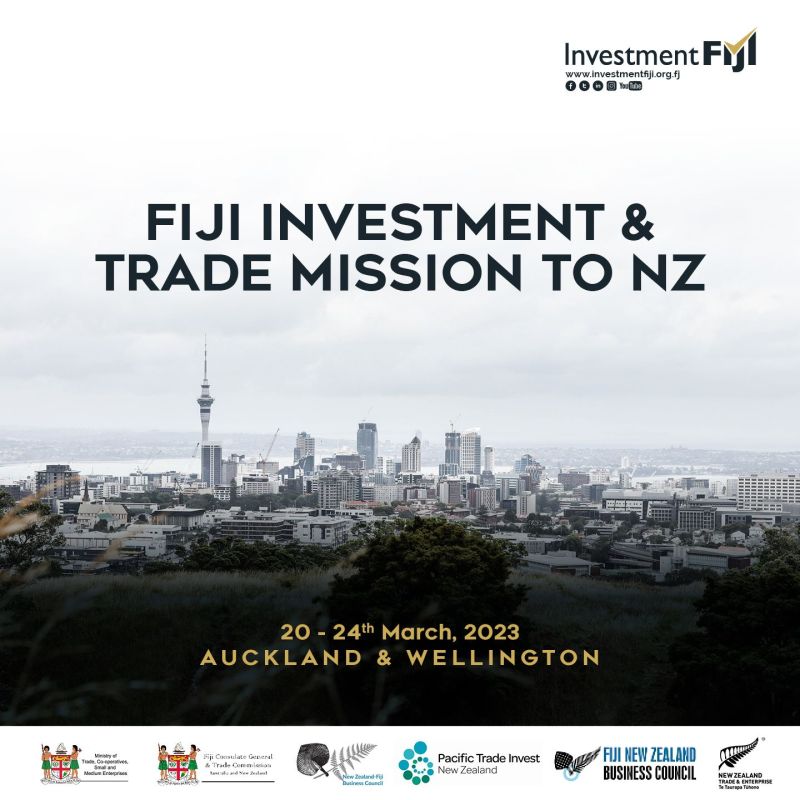 Kia orāna, mālō nī, ni sa bula vinaka, tālofa lava, fakaalofa lahi atu, mālō e lelei!
Take this opportunity to network with key Government officials as well as over 50 Fijian business leaders who are here to promote market opportunities and incentives available in Fiji to New Zealand investors and traders.
This event is led by Investment Fiji in collaboration with the Fiji Consulate General and Trade Commission (Australia and New Zealand), Pacific Trade Invest New Zealand, New Zealand Fiji Business Council and Fiji New Zealand Business Council.
Purpose of the Fiji Trade Mission

The aim of the five-day mission is to leverage export and investment opportunities in New Zealand and to strengthen cooperation on business-to-business and people-to-people partnerships across the sectors.  As a business owner, you will be able to forge deeper connections with your counterparts in Fiji to explore opportunities across manufacturing, services, agriculture, food and beverage, tourism, infrastructure, and telecommunication sectors.
Why Attend the Fiji Trade Mission?

If you fit into any of the categories below, you will want to attend this event:
Business owners who have an interest in doing business in Fiji, either directly, or, by way of a joint venture with a Fijian based business owner.
Business owners or investors who would like to invest in businesses in Fiji.
Details for the Wellington Trade Mission 
Location – Te Papa, 25 Cable Street, Wellington.
Date – Thursday, 23 March 2023 from 8am to 4pm
Cost of Day Attendance – Free
Networking Event hosted by the NZ Fiji Business Council
Location:  Waterfront Room, Harbourside Function Venue, 4 Taranaki Street
Date – Thursday, 23 March 2023 from 5.30pm to 7.30pm
Cost Cocktail Networking Event – Free
Registration is essential due to limited capacity.